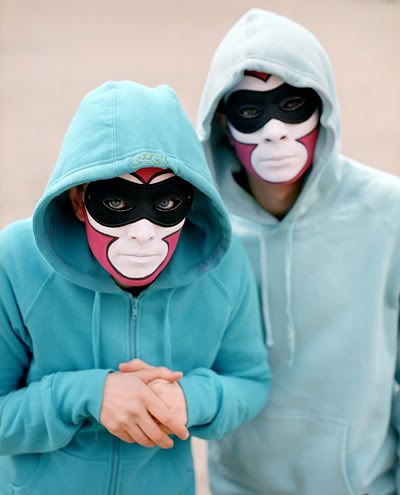 Some new tracks I'm digging on...

The Knife, Neverland

Not that I was expecting them to top the trashy europop genius that was 2004's Heartbeat, but, on a strictly "single" basis, Neverland is a more than worthy successor. Its pacing is bloated and deliberate, offset by disaffected vocals just barely there enough to matter. Sounds like a blast, I know, but the whole driven-as-fuck-beat thing this track has going on invites, not only motion, but much contemplation on its own simplistic nature, and just how effective it is.
The Raconteurs, Steady, As She Goes
Ol' rat moustache himself, Mr. Jack White finally nabbed himself the inevitable side-project in The Raconteurs. Steady, As She Goes, their first single, only mildly fellates Kurt Cobaine's memory but, in a shocking turn of events, pulls it all off swimingly with a snapping tune that understands and embraces the very lack of purpose we would have it shy away from.
Pretty Girls Make Graves, The Nocturnal House
So they've turned in their spitfire, dueling guitars and replaced the bravado with an assured atmospheric creep out factor that will only puzzle you long enough to let Andrea reel you in with those golden drops of wine (or whine) that glide on along your taste buds and go down far too quick. Those opening whistles, the ethereal and overall dulcet nature of the aesthetic remind me of some depressing day at P.E. right before it was going to rain and the clouds circled the field as you lap around in a funk made all by yourself. Andrea conveys regret and strength in the same breath while, musically, PGMG speak the same language as they always have: Misplaced grace.