Half and Half: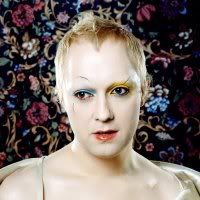 The Best Music of 2005, So Far

I'm loving it. In this first half of 2005 we have had some not-so-surprising let downs, and some satisfying deliveries.

-Beck finally returned with an album that was perhaps a bit too massacred but was a genuine misstep, none the less.

-Hot Hot Heat showed little relevance as there follow up to Make Up the Breakdown is a fun listen but lacks much of the charm and ecclectic drive showcased on their former.

-50 Cent made an album by the numbers that revealed about as much of his weaknesses that we already knew were there.

-M.I.A. lived up to the hype and then some with the best debut of the new century splendidly balancing social consciousness, sexual attraction, and an aural savvy/complexity matched by very few acts in music today.

-Diplo continues to be one of the (if not THE) most sonically gifted and steadily growing DJs of the last ten years.

-Antony and the Johnsons have released one of the most unabashed, and unapologeticly emotive works in years--but manage to hit all the right notes and focus their strengths, pacing the over the top and the reflective personas expertly making for a sprawling album of fabulous control as well as surprising inventiveness.

I have heard close to sixty albums this year so far, and I LOVE close to forty of them.

Here now, is the cream of said crop this year.

My TOP TEN albums of 2005, so far:

01. Antony and The Johnsons, I Am A Bird Now
02. M.I.A., Arular
03. The Fiery Furnaces, EP
04. Diplo, Favela Strikes Back
05. Architecture in Helsinki, In Case We Die
06. The Hold Steady, Separation Sunday
07. Beanie Sigel, The B. Coming
08. The Mountain Goats, Sunset Tree
09. Steve Malkmus, Face The Truth
10. The Game, The Documentary