Punk is Dead Vol. 1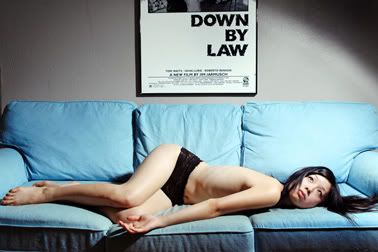 I am, more or less, ripping this off from the love of my life. But, she IS a genius and I'm sure she won't mind.
I'll do this weekly. The top three tracks that seem to be dominating my iTunes playlist. And you will CARE, damn it.
Short & Sweet let's do dis...

Week 1 (04/05/06)
03. Ms. New Booty, Bubba Sparxxx
I first heard this by seeing the video, which is so very, very silly in a very old school type of way. In terms of expectations, I would expect more from Bubba. Deliverance was an amazing album, and one of the best ( if not underrated) albums of the last several years. On its merits, though, this is a ridiculously infectious and fun track. It sort of feels like fluff, and that it may even be a bit of filler when it comes down to the actual album. Though, until I actually hear the LP, I'll have to wait and see. As of now, this is one of the better singles of '06.
02. Passenger, Iggy Pop
I have been in something of a Stooges mood the last several weeks. Now I make the inevitable transition to Iggy by his lonesome. Probably the best track on Lust For Life, it is criminal how many people have no idea that they've heard this song. Fucking movie trailers, man. It's a moody and melancholic journey through back alleys and city streets. A killer hook and monotonous incarnations give it a sure-fire appeal. I still can't stop listening.
01.
Good Fortune
, PJ Harvey
How the hell do you make the pronunciation of the word "fortune" sexy? Standard indie-pop rawkin' was always something Polly Jean could do standing on her head. Not as venomous as most are used to, Good Fortune off of her obligatory departure album, Stories From the City, Stories From the Sea is a bitter sweet meditation that is as heartbreaking as it is heartwarming. Now, even though that may sound lame, I assure you, it is anything but. The deceptively mundane nature of the rhythm section is off-set by the plaintive and powerful nature of the vocals.
God damn I love this song.
See? That was relatively painless. Be here next week.
Bitch.