The girl stays in the picture...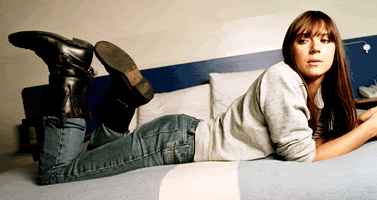 Cat Power, The Greatest
I was thinking, what with the misleading boastfulness of the title, as well as the the cover brandishing those sweet-ass golden gloves that were just made to hang from my rear-view, that Chan's latest release just might be her attempt at hip hop we've all been waiting for. It appears we'll have to wait a bit longer for THAT classic, but settling for Chan doing the latest and greatest Dusty Springfield impression is hardly settling at all. Not since What Would the Community Think has she ever been so attuned to her surroundings. The give and take between herself and the troupe is something as soulful and organic as you could ever expect. Kiss the ring, BITCH.
Nellie McKay, Pretty Little Head
Twee by way of Suzanne Vega, Nellie McKay's, now on indefinate hiatus, sophomore release is on its way to Fiona Apple'ing the joint up. At a loss for marketing ploys, Pretty Little Head is as gently insane as it is honest. Off-color charm being the crux of the album's ability to thrive, one could make the argument that if Nellie ever got a sense of what we mortals consider self-control you wouldn't be able to market her, period.