Speaking of The Prophet...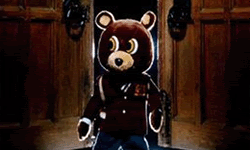 Yeah, Late Registration was overhyped fairly early on. What did you expect? So, subsequently, upon first listen one may be inclined to find the inherent flaws laced within West's most boastful egomania. There's plenty to be found. The most compelling thing bout Ye, though, has always been his ability to fall down with such an exorbitant amount of style. He has such an abundance of grand ideas...they can't all work perfectly. However, West is in the process of becoming such a parody of himself that you can't help but spot his winking eye most of the time.

Everything here is, more or less, on par with The College Dropout but marginally better. Indie production artist, and motion picture maestro extraordinaire, John Brion's additions are doubly interesting because there are instances where shit goes so over the top that you can't help but forgive --because what is Kanye if not lacking subtlety? For me, this is probably the most inspired hip-hop album since Original Pirate Material. It's not overtly eccentric or alienating (not really) but it's spirit has such a ridiculous amount of forward momentum, so that even when it comes up a little short, or awkward,(and it does both) things tend to fit (rather suprisingly) perfectly.